CMMI Representatives Visit Cathedral Square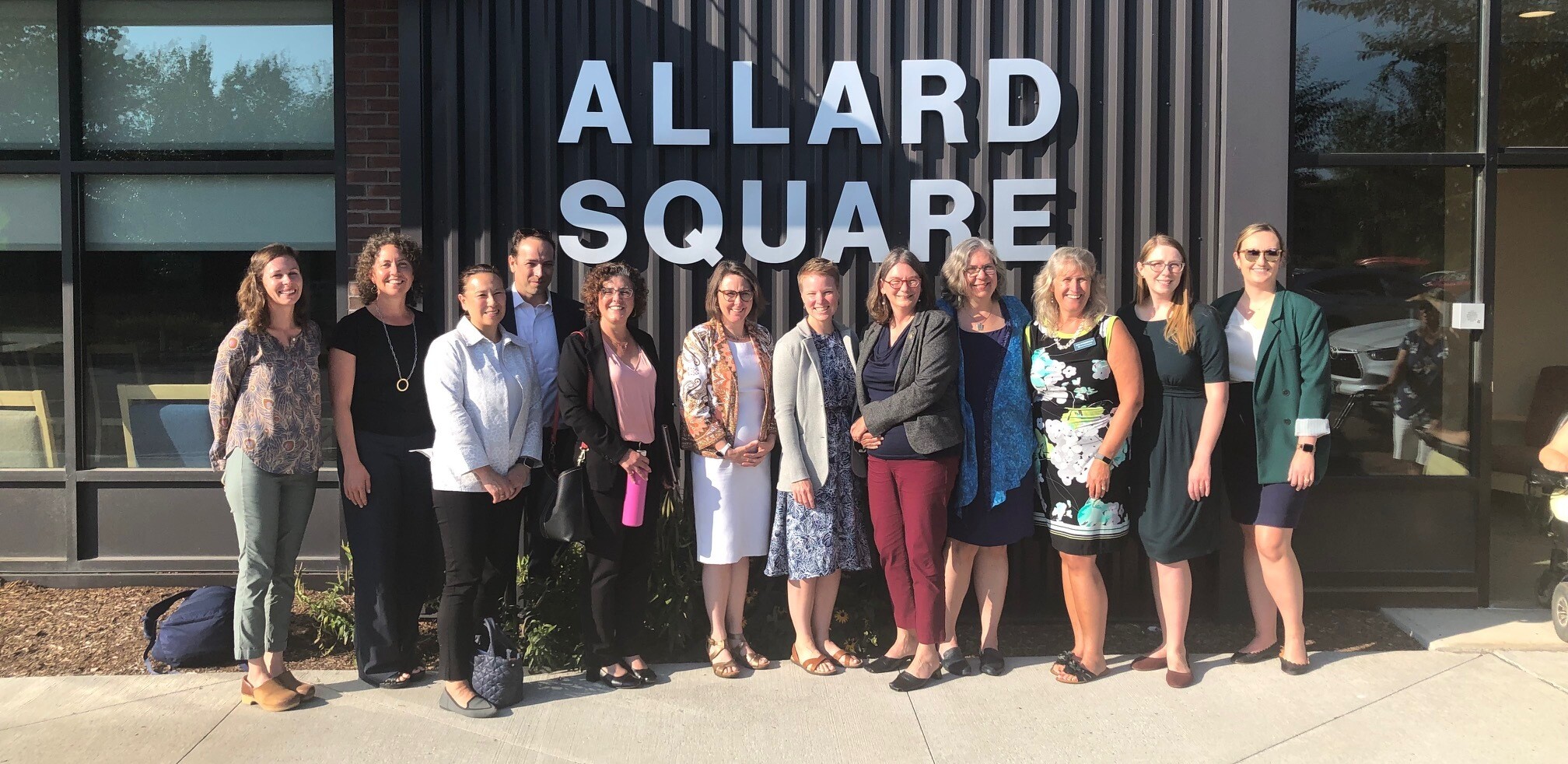 SOUTH BURLINGTON, VT -- Cathedral Square and SASH® (Support and Services at Home) staff recently had the opportunity to welcome several representatives from the Center for Medicare and Medicaid Innovation (CMMI), including Director Elizabeth Fowler, at Allard Square in South Burlington. Their visit included a tour of the property and a SASH participant's apartment, as well as an overview of the SASH model including recent results from our statewide Chronic Conditions Initiatives, Embedded Mental Health program, and SASH for All leveraged by the resources of SASH partner organizations. They also heard directly from two SASH participants about the positive impacts they've experienced.
Allard Square resident Sheree Westerlund shared, "I love SASH and I feel very blessed to live here [at Allard Square]. I'm in good health and don't need a lot of monitoring, but I occasionally see the on-site SASH nurse for my high blood pressure. They got me a new blood pressure cuff to keep and use at home. They organize on-site vaccine clinics and voting. As someone who is afraid to drive, it's nice to have so many services available in the building. When I moved here from New Hampshire, I needed to find a dentist who accepts Medicaid and my SASH coordinator found one for me the same day. During the height of the pandemic, our SASH team offered daily check-ins by phone and by Zoom. I feel so well taken care of. The SASH staff truly care, and it shows. They shine."
"I participate in everything SASH offers in the community," added Lorraine Fleming, a South Burlington resident and SASH participant for 11 years and counting.
The participants also highlighted the on-site and local SASH social events, the medication adherence support from the wellness nurse, and the direct referral to the State Health Insurance Assistance Program (SHIP) to help one of them save hundreds a month on prescriptions. Both participants highlighted their appreciation of the predictable monthly check-ins with SASH staff.
State partners from the Agency of Human Services also participated and provided additional context about SASH from their perspective as a great model serving the state.
Representatives from CMMI included:
Elizabeth Fowler, PhD, JD, Deputy Administrator and Director
Kate Sapra, PhD, MPH, Director, Division of All-Payer Models
Emily Moore, MPH, Model Lead, Division of Multi-Payer Models
Lachelle Smith, MPP, Vermont All-Payer ACO Model Lead
State of Vermont representatives:
Governor's Office: Monica Hutt, Chief Prevention Officer
Agency of Human Services (AHS): Jenney Samuelson, Secretary; Pat Jones, Interim Director of Health Care Reform; Wendy Trafton, Deputy Director of Health Care Reform
Green Mountain Care Board (GMCB): Owen Foster, JD, Chair; Robin Lunge, Board Member; Sarah Kinsler, Director of Health Systems Policy